The Most Needed 8 Airbnb Message Templates With Examples to Boost Your Vacation Rentals in 2023
Are you an Airbnb host hoping to distinguish out from the platform's millions of other hosts by offering unique guest experiences? Do you spend a lot of time trying to convey the ideal message to your guests?
Look no further than the expertly crafted Airbnb message templates from CHM Inc! Our prewritten message templates will save 75% of your time with a guarantee of consistency, professionalism, accuracy, and personalization. Additionally, you can use them to make direct reservations on personal websites and social media.
How can Airbnb message templates help?
Building trust, defining expectations, resolving problems, and receiving 5-star feedback all depend on effective communication. You can maximize your revenues while giving your guests a pleasant experience with Airbnb message templates! Main advantages include:
Ensuring consistency, professionalism, correctness, and personalization by your communications process;
Saving 75%+ time of your time you would otherwise use to send these messages;
High level of guest satisfaction with communication, loyalty, and trust on their part to the host;
Much more efficient management with upcoming and current reservations;
Significant superiority over competitors;
78% more likely to book with you than with others;
Increasing the number of 5-star reviews you get. Our review rate is 90%+, while the average on Airbnb is 70%;
Repeat bookings with you and guaranteed referrals as a host to other clients.
Our editable message templates have been shown to promote reservations, improve customer satisfaction, professionally manage any complaints, and help you stand out from the competition.
Which Airbnb message templates can be created?
Converting your regular messages to templates will ensure prompt replies to your guests. In general, there are dozens of types of messages that Airbnb hosts have to respond to. For example:
Booking confirmation
One week before
Check-in instructions
First morning
Trash day reminder
Extra amenities request
Before check-out
After check-out
Cancellation request
Refund request
Discount requests
Early check-in
Late check-out
Pet policy
New booking inquiry
Positive review request
Noise/party policies
Unsatisfied guests
The only things you actually need to run your Airbnb business are these templates. Don't forget to save these templates to your notes app. Take it a step further and build short replies in your Airbnb messaging center as well. The aim is to automate your Airbnb business completely, never forget that!
8 the most crucial Airbnb message templates for hosts
Excellent communication is a crucial component of effective rental management, so you must make sure to stay in touch with your visitors. Take a look at these 8 key Airbnb message templates, which address each step of the hosting process.
Message templates an Airbnb host must have
| Type | Description |
| --- | --- |
| New booking inquiry | Respond to a guest's inquiry about booking availability, rates, and other relevant details. |
| Booking confirmation | Confirm the guest's booking, including dates, rates, and additional details. |
| Check-in instructions | Provide step-by-step instructions on accessing the property and any necessary codes or keys. |
| Check-out instructions | Outline the process for checking out, including key return, cleaning expectations, and more. |
| Late check-out | Discuss the possibility of a late check-out and any associated fees or arrangements. |
| Pet policy | Explain the property's pet policy, including restrictions, fees, and any guidelines for pet owners. |
| Review request | Kindly ask guests to leave a positive review and share their experience with future potential guests. |
| Noise/party policies | Remind guests about respecting quiet hours and any restrictions on parties or events. |
Utilize these skillfully created message templates to establish genuine, considerate, and expert engagement with your guests! A carefully curated selection of typical communications employed by Airbnb Superhosts is provided. All is tried-and-true, and we regularly receive 5-star ratings from our visitors.
Examples of Airbnb message templates from CHM Inc.
Our team is aware of the value of individualized and efficient communication, and we collaborate closely with customers to develop unique Airbnb message templates that appeal to their target market. Everything is thoughtfully designed to generate engagement and conversions, from writing captivating subject lines to creating templates with appealing visuals.
Examples of Airbnb message templates by CHM Inc. (clickable)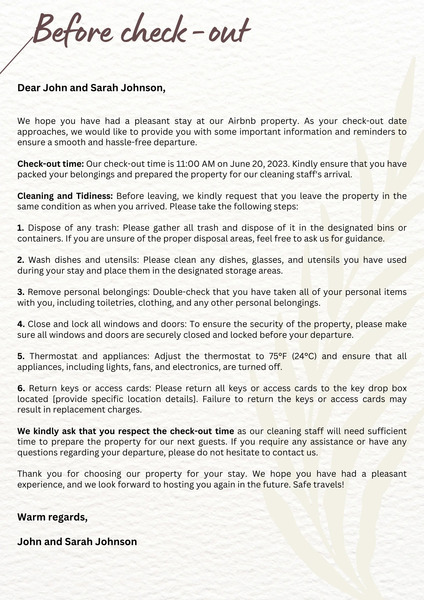 Before check-out instructions for Airbnb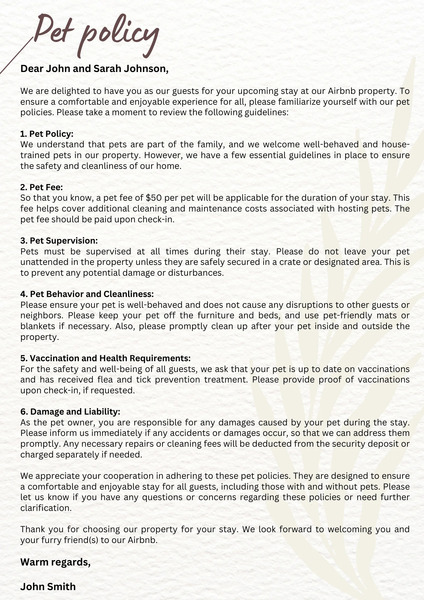 Pet policy for Airbnb guests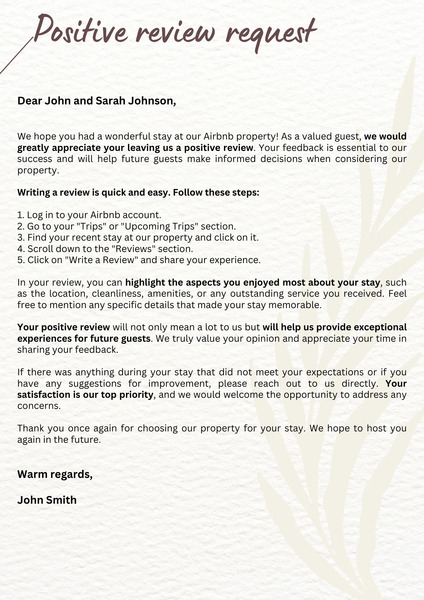 Example of message to request a positive review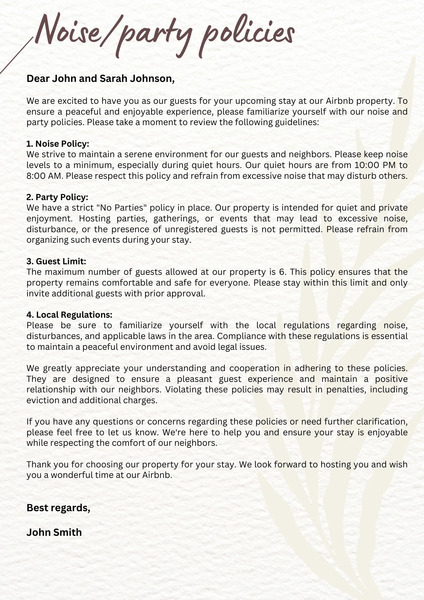 Noise and party policies for Airbnb messages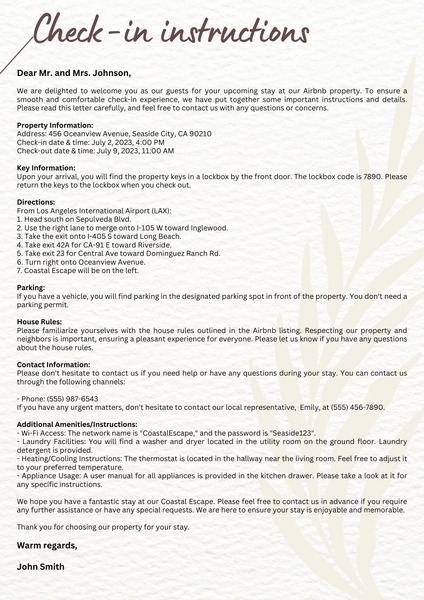 Check-in instructions for Airbnb messages
Download examples
At CHM Inc., we are committed to giving people wishing to expand their holiday rental companies using Airbnb first-rate services. We have the skills and knowledge necessary to assist clients in achieving their objectives because we have years of experience and competence in the area.
What is included in our Airbnb message templates package?
We offer not just a product, but to fully adopt our many years of experience, with which we will be happy to share. See what our Airbnb message templates package includes:
Setup of Airbnb quick replies templates – answers to the most frequently asked questions. This can make inbox management more efficient and help you provide an excellent guest experience.
We will provide you with a proven and effective communication templates pack that we use ourselves based on our years of experience as SuperHost for 26 times.
Our templates pack covers all the typical guest questions: house rules, activities, wifi passwords, directions, best places to eat, where to go, transportation, and more.
Moreover, we will set up for you a full pack of scheduled messages to stay in touch with guests at key moments, like after their booking is confirmed or before check-in.
As a bonus, we will pass on to you our years of experience in communication with customers.
Have additional questions or want to get a full pack of Airbnb message templates? Feel free to write to us! Don't let your listing get lost in the sea of Airbnb properties. Do it today and see the results tomorrow!
As a conclusion
As you can see, Airbnb message templates are very important for any host. They save about 80% of time, ensure consistent communication, improve efficiency, enhance the guest experience, assist with language barriers, manage guest expectations, and allow for personalization.
Frequently asked questions about
Airbnb message templates
1. How do I create a message template in Airbnb?
To create a message template in Airbnb, follow these steps:
Open your Airbnb account and log in.
Open the Airbnb mobile app or the Airbnb website.
Click on your profile image or the account symbol to enter the menu.
Choose "Inbox" or "Messages" from the menu to access your messaging inbox.
A button to start a new message will be in the messaging inbox. To begin writing a new message, click it.
Create a template for the message you want to send. Include any standard or often-used content, such as salutations, directions, or crucial details, that you would like to have in your template.
Once you've finished writing your message, read it over to ensure it is clear and contains all the important details.
Look for a button or option to save the message as a template before sending it. Depending on whatever version of the Airbnb website or app you are using, the location of this choice may change.
To store the message as a template, select that option. You might be asked to give the template a name.
Once saved, it will be accessible in your email for later use. Go to your messaging inbox, select the compose new message option, and then seek for a button or option to choose from your stored templates.
If you're using a template, make any necessary adjustments to tailor the message to the visitor.
Send the visitor a message.
By creating message templates, you can save time by reusing pre-written messages for common scenarios or frequently asked questions while still being able to personalize them as needed.
2. Can you send a PDF in Airbnb message?
No, sending or attaching PDF files directly within the Airbnb messaging system is impossible. But if you need to share a document with your guest, you can try alternative methods such as:
Uploading the PDF to a cloud storage service like Dropbox, Google Drive, or OneDrive, and then sharing the link to the document in the Airbnb message.
Sending the PDF as an email attachment to the guest's email address.
Consider any privacy or security concerns when sharing documents or links outside of Airbnb's platform, and ensure that you comply with Airbnb's policies and guidelines.
3. Can I send pictures on Airbnb message?
In communications from Airbnb, photos can be sent. To give visual information or to highlight your listing, you can send images with your guests or hosts via the Airbnb messaging system. The steps are as follows:
Log in to your Airbnb account.
Go to the messaging inbox.
Open the conversation with the guest or host you want to message.
Click on the camera icon or the "Attach" button within the messaging interface.
Select the photo(s) you want to send from your device's gallery or file explorer.
Once you've selected the photo(s), click on the "Send" or "Attach" button to send them in the message.
There might be restrictions on the number of photographs or file sizes you can send in a single message. If you experience any problems, you can try resizing the pictures or, if necessary, sending them in separate messages.
4. Does Airbnb monitor your messages?
Airbnb may monitor communications made possible by its platform for compliance, safety, and security. So, be careful what you disclose and refrain from sending delicate financial or personal information through the chat system. For specific details, refer to Airbnb's current Privacy Policy and Terms of Service or contact Airbnb directly.
5. What is the best Airbnb welcome message?
The most incredible Airbnb welcome message shows appreciation for the guest choosing your property, contains your contact information for any questions or assistance, includes essential details like check-in processes and house rules, and offers local recommendations. To create a pleasant visitor experience, it needs to be brief, warm, and individualized.
6. How do I send a welcome message to Airbnb guest?
The steps below can be used to greet an Airbnb guest:
Open your Airbnb account and log in.
Open the Airbnb mobile app or the Airbnb website.
Click on the account symbol or your profile photo to enter the menu.
Choose "Inbox" or "Messages" from the menu to access your messaging inbox.
Find the conversation with the visitor you wish to send the welcome message to in the messaging inbox. If it is a brand-new reservation, you might have to wait until the reservation is confirmed before the conversation shows up.
Clicking on the discussion will start it.
There is a text input field in the discussion. In the text input section, enter your welcome message.
Once you've written your message, go through it to ensure it includes all the essential details and a warm tone.
After reviewing, use the "Send" button to communicate with the visitor.
By sending a welcome message, you may start a helpful and polite conversation with your visitor and provide any instructions or information they might need for their stay. Personalize and alter the message to the visitor's detailed booking information.
7. Is Airbnb chat private?
For security and compliance purposes, Airbnb can monitor conversations on its site. Despite its efforts to protect your privacy, you should know that not all correspondence will be kept private. Reviewing Airbnb's up-to-date Privacy Policy or contacting Airbnb directly is advisable for more comprehensive information.
8. Can all guests see Airbnb messages?
No, guests on Airbnb cannot see messages exchanged between hosts and other guests. Conversations are private and specific to the participants involved. Airbnb can monitor messages for compliance and security reasons.
9. Can Airbnb block messages?
The capacity to censor or prevent communications sent through their system is available to Airbnb. This could happen if the communications are inappropriate or offensive, break Airbnb's rules, or have problems with user safety or compliance. Additionally, if Airbnb notices suspicious or dishonest behavior, they may restrict messages.
The platform's continuous safety and security for hosts and users is partly made possible by blocking communications. Be aware of potential issues preventing you from using Airbnb to send or receive messages. In that circumstance, it would be prudent to review Airbnb's policies or get guidance from customer service.
10. What do you say in a message on Airbnb?
Being cordial, concise, and professional when sending messages on Airbnb is crucial. Here is a general model to follow:
Greeting

: Start with a warm greeting, addressing the recipient by their name if available.

Introduction

: Introduce yourself briefly, mentioning your role as a host or guest.

Purpose of the message

: Clearly state the purpose of your message, whether it's an inquiry, booking request, or seeking clarification on specific details.

Relevant details

: Provide any necessary information related to your inquiry or request. This may include dates, number of guests, special requirements, or specific questions.

Polite and respectful tone

: Maintain a courteous and respectful manner throughout the message, using appropriate language and avoiding offensive or demanding language.

Additional information

: Include any further details or instructions that are important for the recipient to know, such as check-in procedures, amenities, or house rules.

Closing

: End with a polite close, such as "Thank you," "Best regards," or "Looking forward to hearing from you."

Contact information

: If needed, include your contact information (email, phone number) if the recipient needs to reach you outside the Airbnb platform.
Tailor your communication to the recipient and the particular situation. Reviewing and editing your message before sending it is a good idea to ensure clarity and correctness.
Updated on: . Author: Karina