Top 18 The Most Crucial Airbnb House Rules – Tips & Free Template
Displaying your Airbnb house rules allows hosts to clarify their expectations when people stay in their vacation rental. Guests will not be able to use the excuse of not knowing what is allowed to do on the property, and you will have a signed proof of this, which is very useful in case of discrepancies.
We created an Airbnb house rules template, which you can get completely free. But some points should never be missing. Continue reading to know what you must include in the regulations for your vacation rental guests!
What should be included in the
Airbnb house rules
Reviewing your competitors' listings is a good way to understand common Airbnb house rules among hosts. Airbnb's summary of house rules feature can also help. With time and experience, you can refine and adjust your rules to best suit your needs and the needs of your guests.
A faster way to find out is to use the Airbnb house rules template for your vacation rental. Do you want to know the essential rules you must list? Keep reading and discover them!
1. Presentation of the Airbnb house rules document
Start from the very beginning. Take advantage of the opening paragraph to explain why it is necessary to establish a series of Airbnb house rules and what would happen if they were seriously or repeatedly broken.
If you want ready-made message templates that we use ourselves based on our years of experience as SuperHost for 26 times, check out our Airbnb Solutions.
2. Establishment of general requirements for guests
The general requirements section will allow you to highlight the most basic rules or those that do not belong to any of the clauses below. For example:
No smoking;
No parties or events;
No pets;
No unauthorized guests;
No loud noise;
Respect the property;
Check-in and check-out times;
Communication with the host.
These are just a few examples. It's important to carefully read the house rules before booking a property and follow them during your stay to avoid issues with the host or other guests.
3. Noise issues and neighborhood
The number of municipalities and/or communities of owners that restrict vacation rentals is increasing daily, so the last thing you want as a host is to worsen relationships with your neighbors.
You can highlight the importance of not making too much noise after certain hours. The neighbors will thank you, and you will avoid dealing with complaints in the future.
4. Visits of not renters to your property
Let your guests know if they cannot receive visitors during their stay. Similarly, if you want to limit the number of guests hanging out in your vacation rental, you should clarify that in this section.
5. Regulations for holding events at your property
One of the main concerns of many hosts is that their guests will organize parties on the property. There are cases, but as a general rule, these celebrations are usually accompanied by excesses, noise, and damage.
The best way is to ban them directly in your Airbnb guest rules, so if someone wants to throw a party, they don't even bother booking your place on the platform.
6. Availability of parking spaces near by the accommodation
Is there a parking lot near your property? How many cars use it?
If you've ever had issues with guests parking in a neighbor's garage, specify this information in your vacation rental house rules. You'll avoid a lot of headaches, and travelers will know what to expect!
7. Smoking in the Airbnb vacation rental
Are guests allowed to smoke in your property? Or are they forbidden? Avoid smelly surprises by clarifying the smoking rules before guests check-in! Here's a list of reasons why smoking is often prohibited in most Airbnb rentals:
Strong odors

. Smoking can leave a strong and unpleasant odor in the rental that can be difficult to remove and can also stain fabrics and surfaces.

Additional cleaning costs

. The smell of smoke can linger long after a guest has left, which may require additional cleaning costs for the host.

Fire hazards

. Smoking indoors can be a fire hazard, and many hosts may be concerned about the potential damage to their property or the safety of their guests.

Local regulations

. In many areas, some local laws or regulations prohibit smoking in indoor spaces, which could put hosts at risk of fines or other penalties if they allow guests to smoke.

Guest preferences

. Many people prefer to stay in a smoke-free environment, and prohibiting smoking in the rental can help ensure the space is comfortable and welcoming.

Health concerns

. Secondhand smoke can harm the health of guests and hosts, especially those with respiratory or other health conditions.

Liability issues

. Hosts may be liable for any damages or legal costs if a guest is injured or suffers health problems due to smoking in the rental.
Do you want to become part of the vacation rental business and start making a profit in a month? Start working with us! how? Follow our guidance and protocols and make maximum out of your property with a complete peace of mind.
8. Garbage and recycling rules
Specific litter guidelines at your property are okay. You can ask travelers to separate waste according to the material to facilitate recycling or to request that dirty dishes be left in the dishwasher.
Many travelers choose a vacation rental because they want to feel at home even when away from home, so they won't mind taking care of things like these that don't require extra effort.
9. Safe and security issues of the Airbnb property
Many guests won't need you to ask them to take care of your house, but it's always good to say it just in case. Ensure your guests know their belongings will be safe when not at the property.
You can also remind guests how important it is to save energy (for example, they don't have the AC on and the windows wide open or do not leave the lights on when they leave rooms).
10. Rules of using jacuzzi or pool by guests
If your guests are lucky enough to have a jacuzzi or swimming pool, ensure they know any restrictions and objects that should not be used. This will give you the security of knowing you will not have to pay to clean a pool that has been enjoyed too much.
Possible jacuzzi and pool rules for guests on Airbnb
| Rule | Conditions |
| --- | --- |
| No diving or jumping | To avoid harm and for safe use, guests should not dive or jump into the pool. |
| No glass containers | Glass containers can shatter and pose a safety hazard, so they should not be allowed in the pool area. |
| No running | Running around the pool area can be dangerous, so guests should be reminded to walk carefully. |
| No unsupervised children | Children should always be supervised by adults in or around the pool or jacuzzi. |
| No food or drink in the water | To avoid contamination and maintain cleanliness, guests should not bring food or drink into the pool or jacuzzi. |
| Shower before entering | To prevent introducing dirt or other contaminants into the water, guests should be reminded to shower before using the pool or jacuzzi. |
| Use at your own risk | Guests should be informed that they use the pool or jacuzzi at their own risk, and the host is not responsible for any injuries or accidents that may occur. |
| Respect the neighbors | Guests should be reminded to be considerate of the neighbors and keep noise levels down, especially during late night hours. |
| Follow local regulations | Hosts should comply with local regulations or laws regarding pool or jacuzzi use, such as requiring a fence or pool cover. |
| Clean up after yourself | Guests should be reminded to clean up after themselves, such as throwing away any trash or used towels. |
11. Use of balcony, terrace and/or patio
The balconies are best for city views but can also cause problems. Because of this, you want to incorporate a few sentences describing the regulations governing this kind of external. Here are some common considerations for such parts of the property:
Safety first

. In order to prevent falls, balconies should be constructed with strong rails or other barriers. There may be regulations regarding the height and design of balcony railings.

No clutter

. Patios should be kept clean and free of clutter, as loose items can easily fall off and cause injury or damage to the property below.

No smoking

. It may be prohibited, especially if there is a fire risk or nuisance to other residents.

Noise levels

. Residents should consider this point, especially in the early morning or late at night.

Restricted use

. Balconies may be off-limits for certain activities, such as barbecuing or hanging laundry.
The rules and regulations for balconies/patios may vary depending on the building and jurisdiction. It's always good to check with your building management or local government to ensure you follow relevant rules or guidelines.
12. Rules for correct use of fireplace
Some hosts may not be comfortable with guests using the fireplace in their property for various reasons. It could produce a lot of smoke, pose a security risk, or have a blocked tube, making it purely decorative.
For whatever reason, if you don't want the fireplace to be used, all you have to do is add it to the house rules of your vacation rental.
13. Pets as a part of Airbnb house rules
If you accept pets at your property, celebrate it! But if you have any restrictions on furry guests, such as the number or size of pets, your guests must be aware. Examples of pet rules that you as a host may establish:
Not permitted on the beds or furniture;
Pets cannot be left unattended at the property;
Restrictions on breed, size, or age;
Evidence of vaccinations;
Must be neutered/spayed;
Must be trained to live in a home;
Only hypoallergenic dogs;
No obnoxious barking;
Outside the rental, pets must be on a leash;
The dog owner must pick up dog waste.
If you do allow guests to live in your property with pets, you should be aware of some of the pros and cons of doing so.
14. Barbecue usage at the property
Spending the summer in a vacation rental is great if you have outdoor areas: relaxation, cooking, and eating out whenever you want. So if your property has a BBQ for these cases, you should establish rules for use (and cleaning!).
15. Damages to the Airbnb property during stay
In case of damage or malfunction, guests must report it immediately instead of fearing the loss of their entire deposit. Moving furniture from one room to another is prohibited to prevent expensive damage that needs fixing.
16. Check-out process of guests
Although you may have already sent check-out information to your guests, it won't hurt to repeat it to make sure nothing is left behind. Include issues such as cleaning, garbage obligations, handing over the keys, or anything else you think is necessary when guests leave your property.
17. Contact information for emergency cases
Make available to your guests the telephone number of ambulances, firefighters, and police. It's always a good idea to leave your contact information here if someone has a problem and needs your help.
18. Compliance with all the above Airbnb house rules
This final section will summarize the conditions of the rules for your vacation rental described above and will explain what would happen if the guests do not carry them out.
Need help managing your short-term rental stress-free? Try our Airbnb co-hosting! Our team connects homeowners with skilled service providers for co-hosting, property management, cleaning, photography, and vacation rental marketing.
How to display Airbnb house rules
in the listing
Once you know what should be on your Airbnb house rules list, it's time to include them in your listing. Although there is a specific section for this, there is nothing wrong with adding them to the description.
Adding house rules to Airbnb
Before making a reservation, guests must read and agree to house rules. Once the reservation is confirmed, Airbnb will send a message reminding guests of the agreed-upon terms. To add your house rules to Airbnb, follow the next steps:
Go to 'Your listings' on the Airbnb platform;
Choose the listing you want to edit and click 'Manage listing';
Click on the 'Booking settings' option;
Find the line 'House rules' and click 'Edit';
Go through the 5 preset rules and select the ones you'd like to apply.
Click 'Save.'
Another smart move is to print up your house rules and post them within your rental. Also, don't forget to include your most important rules in the welcome letter for Airbnb.
What happens if someone breaks
your Airbnb house rules
If you are unfortunate enough to find that one of your guests breaks the house rules and does not give up after being notified, your best bet is to contact Airbnb and report the situation.
The best way to report a house rules violation to Airbnb is to contact the Help Center. There, you can get a platform representative who will allow you to cancel the guests' reservation and expel them without being penalized if your reasons are valid and proven.
Airbnb house rules example
It is the guest's responsibility to carefully read the rules and regulations as it is legally valid and will apply without exception to everyone staying at any property managed by Happy Property.
Registration.

Guests must accurately count and register the number of people staying and are prohibited from hosting parties or events on the property. Happy Property reserves the right to refuse admission and guests cannot use the property as a residence.

Arrival/departure.

Check-in is at 3:00 pm, and guests must leave the property by 11:00 am on the day of departure. If guests stay past 11:00 am, it may charge extra based on the current nightly rates. After check-out, Happy Property may enter the property to collect the guest's belongings and prepare the room for the next guests.

Noise.

The guests must always maintain respectful and considerate behavior towards neighbors and moderate the volume of their conversations, TV, and music to avoid disturbing others. Quiet hours are between 10 pm and 8 am.

Children.

Guests accompanied by minors must watch over them and never be left unattended. They will be responsible for any accident that the minor may suffer within the properties managed by Happy Property.

Energy savings.

Please do not abuse electricity. These mini-split AC cool a room in minutes, so there's no need to leave them on all day to stay cool. Turn off the air conditioning every time you leave the property.

No Smoking.

Smoking is strictly prohibited on the property. There is a significant room recovery fee for non-compliant guests to cover the cost of restoring the property to a smoke-free condition. It is also prohibited to have any weapon or illegal substance.

Pool usage.

Consuming food and using glasses or glass bottles in the pool is forbidden. Entering the pool is at your own risk.

Inspections.

The property manager can enter the property anytime to inspect or perform any tasks, such as repairs and general maintenance.

Cameras.

Happy Property has installed security cameras to monitor public and common spaces. All the material obtained from these cameras will be available to the authorities if necessary.

Damages.

Guests must pay for any damage or missing items during their stay. Happy Property will decide the amount to be paid. Guests will be charged for replacing the door key if lost. Guests must also pay a service fee and shipping costs for forgotten items.

Pets.

Pets are generally not allowed at Happy Property managed properties. If guests wish to bring a pet, they must obtain explicit permission from Happy Property before booking. If pets are approved:
There is a 2-week minimum stay.
The pet must weigh less than 20 kg and be fully trained.
Pets cannot be left alone in the room (unless in a kennel or crate).
Guests must take responsibility for cleaning up their waste.
An additional fee may be charged if the property requires excessive cleaning.
Release of liability and indemnification:
Guests must never leave personal belongings unattended and are responsible for their money, documents, etc. We are not responsible for any loss or theft. Guests must lock doors and windows and secure their belongings when leaving the property.
Neither Happy Property nor the property owner or their representatives will be responsible for any injury, loss, illness, or damage to any guest or guest property.
We are not liable for any inconvenience caused by neighbors or fortuitous events such as interruption of utilities or construction noise and dust. While Happy Property will try to minimize noise disturbances, it is not responsible for them.
Free template of Airbnb house rules
Your guests must sign the vacation rental rules. Don't be afraid to appear suspicious: setting reasonable rules for your guests is standard practice these days, making for a better experience for everyone. Think of the time you'll save by not having to repeat instructions over and over again!
Still don't know where to start? Download our free template of Airbnb house rules and fill it in with your information to personalize it!
Airbnb house rules (clickable)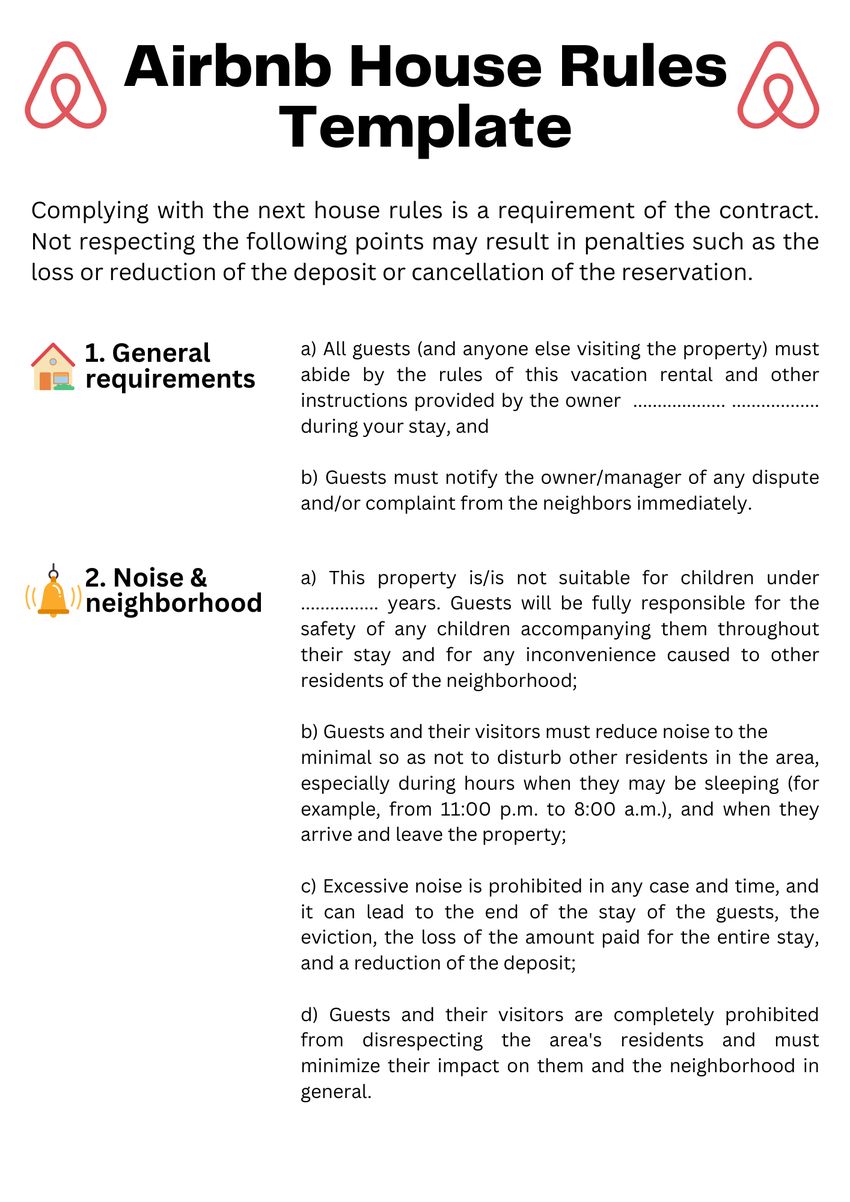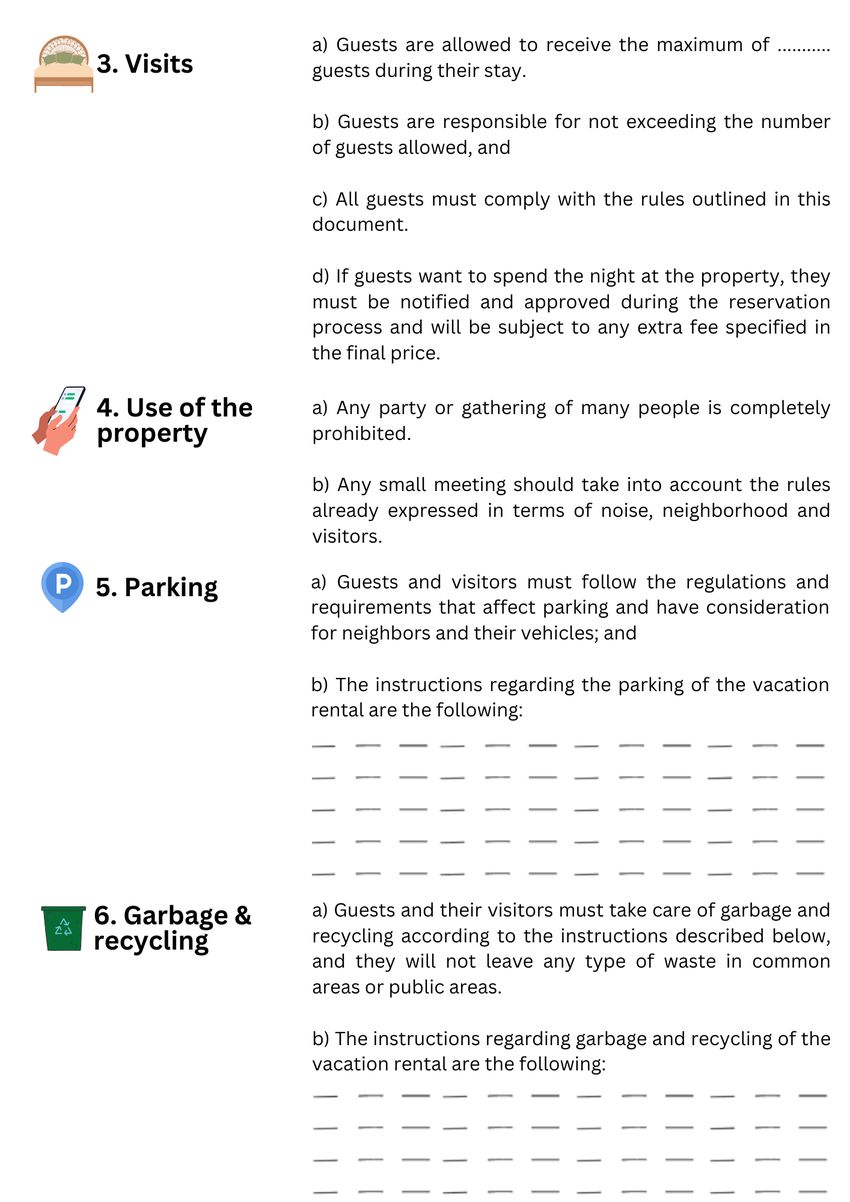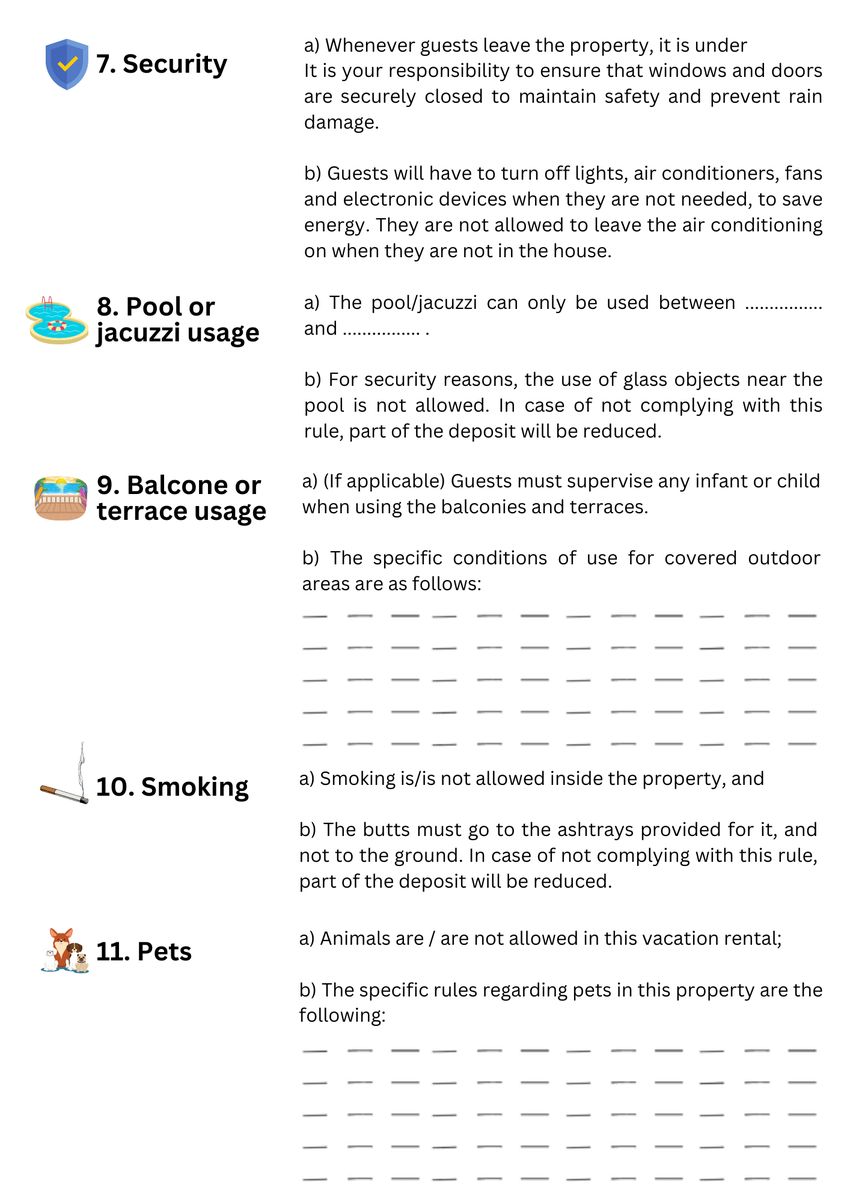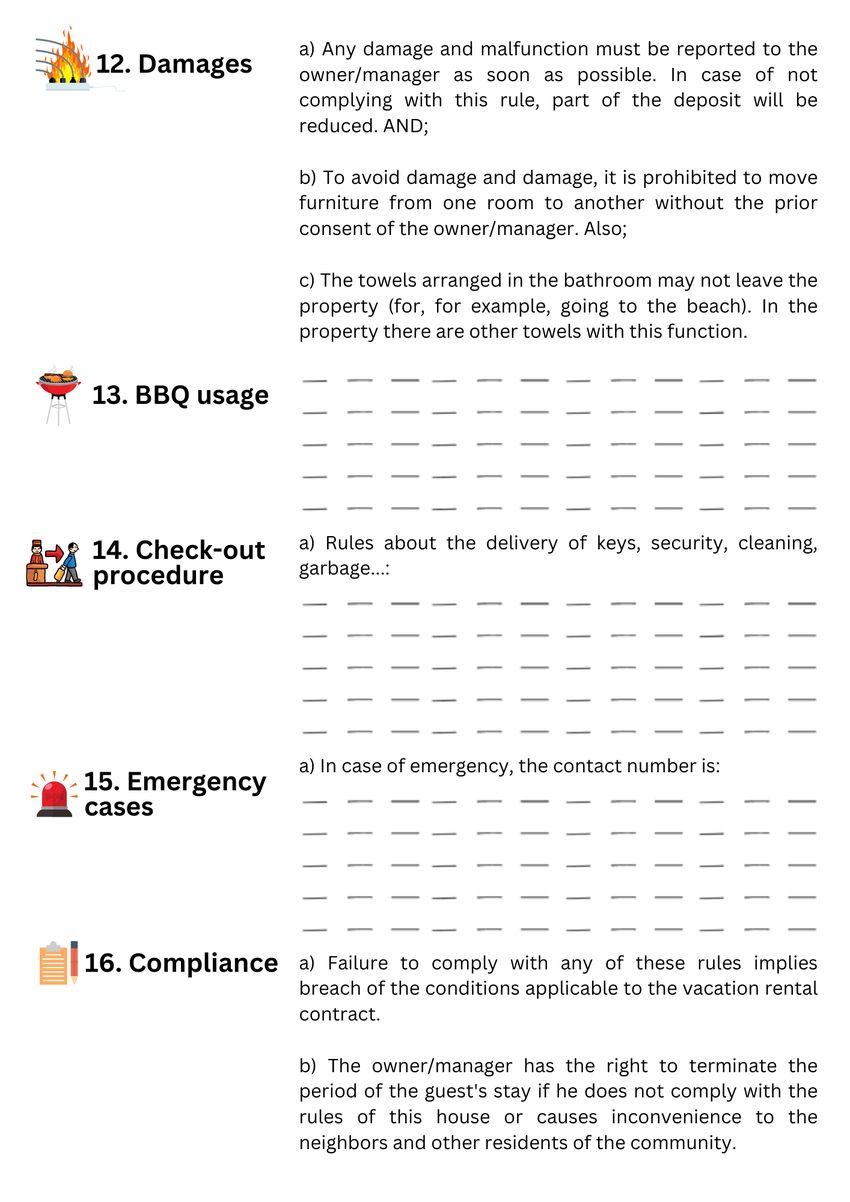 As a conclusion
Hosts should have their guests sign Airbnb house rules if they want to rent out their property with guarantees. Reasonable regulations is a standard practice and create a better experience for everyone. This also saves time and prevents the need to repeat instructions multiple times.
Frequently Asked Questions
Related to the Airbnb House Rules
1. What happens if you break Airbnb house rules?
If a guest breaks Airbnb's house rules, the host may take a variety of actions depending on the severity of the violation. This can include canceling the reservation, withholding the security deposit, or even involving law enforcement if necessary.
2. What happens if someone trashes your Airbnb?
If someone damages or destroys your Airbnb property, as a host, you can file a claim through the Airbnb Host Guarantee program or the Host Protection Insurance program. The Host Guarantee program covers up to $1,000,000 in property damage caused by guests, while the Host Protection Insurance program covers liability claims up to $1,000,000.
3. What is not allowed on Airbnb?
Airbnb has specific policies that outline what is not allowed on its platform, including:
Unauthorized parties or events
Smoking inside the property
Pets, unless explicitly allowed by the host
Breaking local laws or community rules
Criminal activity or illegal substances
Excessive noise or disturbances
Altering or damaging the property
Discrimination or harassment towards others.
These rules aim to ensure a safe and respectful community for both guests and hosts. Violating these policies can result in penalties, suspension, or permanent removal from the platform.
4. Can Airbnb guests sue?
For personal harm or property damage sustained during their stay, Airbnb guests have the right to sue their hosts. But Airbnb has a dispute resolution procedure that encourages both guests and hosts to settle differences out of court.
Before pursuing legal action, it is advised that both guests and hosts attempt to address any disputes using Airbnb's resolution center.

5. Can Airbnb force guest to pay damages?
Yes, Airbnb may demand payment from a guest if a host reports damage made by a visitor. The fee will be decided by the host and Airbnb, and the visitor will be informed and given the chance to contest the fee if they think it is unjust.
If the visitor refuses to pay, Airbnb can deduct the cost from their security deposit or charge the registered payment method.
6. Do Airbnb hosts check on you?
In general, hosts may occasionally check in with guests to make sure they are content and to resolve any issues they might be having. However, hosts should also respect their visitors' privacy and avoid unnecessarily interfering with their stay.
It is important to read the listing and communication from the host to understand their level of involvement during your stay.
7. Can Airbnb host charge extra for cleaning?
Airbnb hosts indeed have the option to add a cleaning fee to the nightly pricing. Guests can view this fee before making a reservation on the listing page, where the host sets it. The cleaning fee is intended to cover the cost of cleaning the space after guests depart, and it is charged per stay, not per night.
8. What happens if someone trashes your Airbnb?
If someone causes damage or leaves your Airbnb in an unacceptable state, you can file a claim with Airbnb's Host Guarantee program. The Host Guarantee program provides up to $1 million in property damage protection to hosts.
You need to document the damage and report it to Airbnb within 14 days of the guest's checkout date. You can also leave an honest review of the guest to warn other hosts of their behavior.
9. Do you need to clean up Airbnb?
Yes, as an Airbnb guest, you are expected to clean up after yourself during your stay and leave the property in a reasonably clean condition when you check out. Most hosts will also have specific cleaning instructions in their house rules that you should follow to avoid any additional cleaning fees.
10. Can I cancel Airbnb if it is dirty?
Yes, if an Airbnb listing does not meet cleanliness standards or if there are any other issues that make the property unsuitable for your stay, you can contact the host or Airbnb support to request a cancellation and a refund.
However, it's always a good idea to communicate any concerns with the host first to see if they can resolve the issue before cancelling.
11. Should Airbnb provide toilet paper?
Yes, according to Airbnb's hosting standards, hosts are expected to provide toilet paper for their guests. It is considered a basic amenity that guests should not have to provide for themselves.
12. Does Airbnb monitor guests?
No, Airbnb does not monitor guests. However, hosts may have security cameras in common areas of the property, but they must disclose this information in the listing and provide guests with their privacy rights.
13. Does Airbnb allow cameras inside?
Airbnb's policy on cameras is that they are allowed in common areas, but not in private spaces such as bedrooms and bathrooms. Hosts must disclose the presence of any cameras in their listing description and obtain consent from guests if they are recording in any part of the property.
Airbnb also prohibits hidden cameras and requires hosts to comply with local laws and regulations regarding surveillance.
Updated on: . Author: Karina