Top 10 Airbnb Communication Strategies Hosts Must Follow to Get More Bookings in 2023
Airbnb communication is an important aspect of generating new reservations. It must be faultless to attract more bookings. Guests' willingness to book with you will depend on your tone, speed in replying, and capacity for insightful responses. Before, during, and after their stay, guests always appreciate the host's prompt and efficient communication.
A well-thought-out set of Airbnb communication guidelines will assist you in providing an outstanding guest experience and increasing your bookings. Use the advice in this article to impress visitors while saving time.
1. Use polite phrases in your
Airbnb communication
Always act professionally when speaking with visitors, regardless of whether they do the same for you. It would be ideal if you thanked them for getting in touch with you initially. If, for any other reason, you are unable to fulfill a guest's request, wish them luck in their search and provide some possible alternatives.
Table of courteous phrases in Airbnb communication
| Situation | Polite phrase |
| --- | --- |
| Guest inquiring about availability | "Thank you for your inquiry. We appreciate your interest in our property." |
| Unable to accommodate guest's request | "Unfortunately, we are unable to accommodate your request at this time. We apologize for any inconvenience this may cause." |
| Suggesting alternative options | "While we are unable to fulfill your request, we would be happy to suggest some alternative options that may better suit your needs." |
| Requesting additional information | "We kindly request some additional information to assist us in addressing your inquiry fully." |
| Confirming a booking and expressing gratitude | "Thank you for choosing our Airbnb for your stay. We are delighted to confirm your booking and look forward to hosting you." |
| Responding to a guest's query or concern | "Thank you for bringing this matter to our attention. We understand your concern and will do our best to address it promptly." |
| Wishing the guest a pleasant stay | "We hope you have a fantastic time during your stay with us. If you need any further assistance, please don't hesitate to let us know." |
| Thanking the guest for their feedback | "We greatly appreciate your feedback/review. Thank you for taking the time to share your experience with us and future guests." |
Don't be too casual when responding to your guests, even if you should strive to be as specific as possible. You run a business, so treat any correspondence with Airbnb as though you were doing so on behalf of the company. More about it you can find in our article on communication in the hospitality industry.
2. Personalization of your answers is key
in the Airbnb communication
Keep in mind that you are conversing with a real person. Making a good impression requires personalization. 80% of consumers are more willing to purchase goods or services that provide tailored experiences. Similar rules apply to communication on Airbnb. Here are some suggestions for customizing your responses if you're unsure how to do it:
Craft human-sounding messages from our customer service division;
You must always use the prospective guest's name;
Incorporate guest's personal information;
Update current guests with personal data from the reservation;
Tailor recommendations and suggestions;
Respond with empathy and understanding.
If you really want to personalize your communication processes with your guests but don't have time, our CHM team can do it instead of you! We can manage everything and even more. Please familiarize yourself with our Airbnb property management services and don't wait to become a successful host on this platform!
3. Always start a conversation with
your Airbnb clients
After confirming a reservation, if a guest booked your place but didn't strike up a discussion, feel free to do so. By doing this, you can demonstrate that you are a kind and caring host. Even if the passenger makes the reservation well before the travel dates, starting the conversation encourages them to maintain it.
It also lets you give any additional information about your property that the visitor might have missed, such as the house rules. Inform your guests that you look forward to their visit and can assist them anytime.
4. Create a sense of urgency
in your messages
A typical message you can get is asking if your property is still available for some dates. Instill a sense of urgency if you want guests to make quick bookings. You can say, "It's available right now. However, I've talked to another potential guest who hasn't yet confirmed their reservation". Another option is to make an instant booking special offer.
Urgency strategies for Airbnb messages: table showcase
| Message scenario | Example |
| --- | --- |
| Inquiry about listing availability | "It's available right now. However, I've talked to another potential guest who hasn't yet confirmed their reservation." |
| Last-minute availability | "We just had a cancellation, and our listing is now available for your desired dates. Don't miss out on this opportunity!" |
| Limited-time discount or offer | "For a limited time only, we're offering an exclusive 20% discount on bookings made within the next 24 hours. Secure your reservation now!" |
| Competitive demand for a popular listing | "Our listing is highly sought after, and we've been receiving multiple inquiries. Act fast to secure your reservation before someone else books it!" |
| Upcoming event or holiday-related urgency | "With [upcoming event/holiday] just around the corner, our availability is quickly filling up. Reserve now to guarantee your stay during this busy period!" |
| Limited availability for a specific date or time | "We only have one opening left for the dates you requested. Don't delay and secure your reservation before it gets booked by someone else!" |
| Special package or add-on with limited availability | "We have a limited number of spots available for our exclusive spa package. Book now to indulge in this unique experience during your stay!" |
| Seasonal offer or discounted rates expiring soon | "Take advantage of our current seasonal offer before it ends on [expiration date]. Secure your booking now to enjoy discounted rates!" |
This strategy discourages guests from trying to get a discount while simultaneously encouraging them to make their appointments right away.
5. Respond promptly to all the
guests' messages
More guests book with hosts who answer fast. If the host does not reply to a first message concerning the availability of a listing within 24 hours, a guest is more likely to leave that listing. In fact, if they didn't get a speedy response, 57% of guests stated they would book with a competitor.
Before a dispute develops or Airbnb support is called in, a prompt answer also aids in defusing a problem. When issues emerge, don't let visitors handle them alone. You need to be their initial point of call for guests' care issues.
6. Update your Airbnb communication
by setting up automated messages
These automated messages can include a simple 'Thank you for booking with me' message after a guest books your property or a friendly follow-up message if you haven't heard back from a guest who asked a question but didn't book.
Pros vs cons: automated messages on Airbnb
| Pros | Cons |
| --- | --- |
| 1. Time-saving. Save hosts time by sending pre-written responses to common inquiries or messages. | 1. Lack of personalization. May feel impersonal and fail to establish a genuine connection with guests. |
| 2. Consistency. Ensure that guests receive consistent information and prompt responses. | 2. Limited flexibility. May not account for unique or specific situations, requiring manual intervention. |
| 3. Immediate responses. Can provide instant replies, enhancing guest satisfaction and reducing wait times. | 3. Missed opportunities. May not address specific guest needs or inquiries adequately, potentially leading to missed opportunities for engagement or bookings. |
| 4. Standardization. Help maintain a professional and organized approach to guest communication. | 4. Limited customization. May not effectively adapt to individual guest preferences or circumstances, leading to a less personalized experience. |
| 5. Scalability. Efficiently handle a large volume of inquiries, especially during busy periods. | 5. Risk of errors. Run the risk of containing inaccuracies or outdated information if not regularly reviewed and updated. |
Automated messages also allow you to interact with guests when you're not physically available to do so. Remember that we have our Airbnb chat templates at your disposal with a special discount.
7. Answer the questions to guests completely
Frequently, guests will ask hosts for assistance rather than calling Airbnb support. As a result, you must ensure that you can respond to all of a visitor's inquiries or point them toward the appropriate support systems.
To provide guests with the appropriate information, it would be preferable to always keep up with the most recent Airbnb news and support updates. Ensure you are familiar with the solutions to any queries a guest might quickly find in the Airbnb support part of the website.
8. Ask your Airbnb guests
how you can help them
One of the most crucial aspects of your Airbnb communication strategy is asking for feedback. This is a terrific strategy to get more reservations and the only way to get as many 5-star reviews as possible. Here's a list of 8 questions you can ask your guests to understand them better:
Is there anything specific you would like assistance with during your stay?
Do you have any special requests or requirements we should know about?
Are there any specific amenities or facilities you would like to have access to during your stay?
Is there any information or recommendations you need about the local area or attractions?
Do you have any dietary restrictions or preferences we should take into consideration?
Would you like assistance with transportation arrangements or local transportation options?
Do you want to explore any particular activities or experiences during your stay?
Do you need additional information or clarification about the property or its amenities?
Before guests make a reservation, you need to understand what makes them pause or unhappy if you want 5-star feedback. Since you can edit your listing, house rules, or the property itself, communication should be aimed at identifying these issues.
9. Be transparent and honest regarding
your house rules
Airbnb house rules are also part of your Airbnb communication process. Transparency in house rules means there shouldn't be any ambiguity or uncertainty for guests about the rules at your property.
Airbnb house rules (clickable)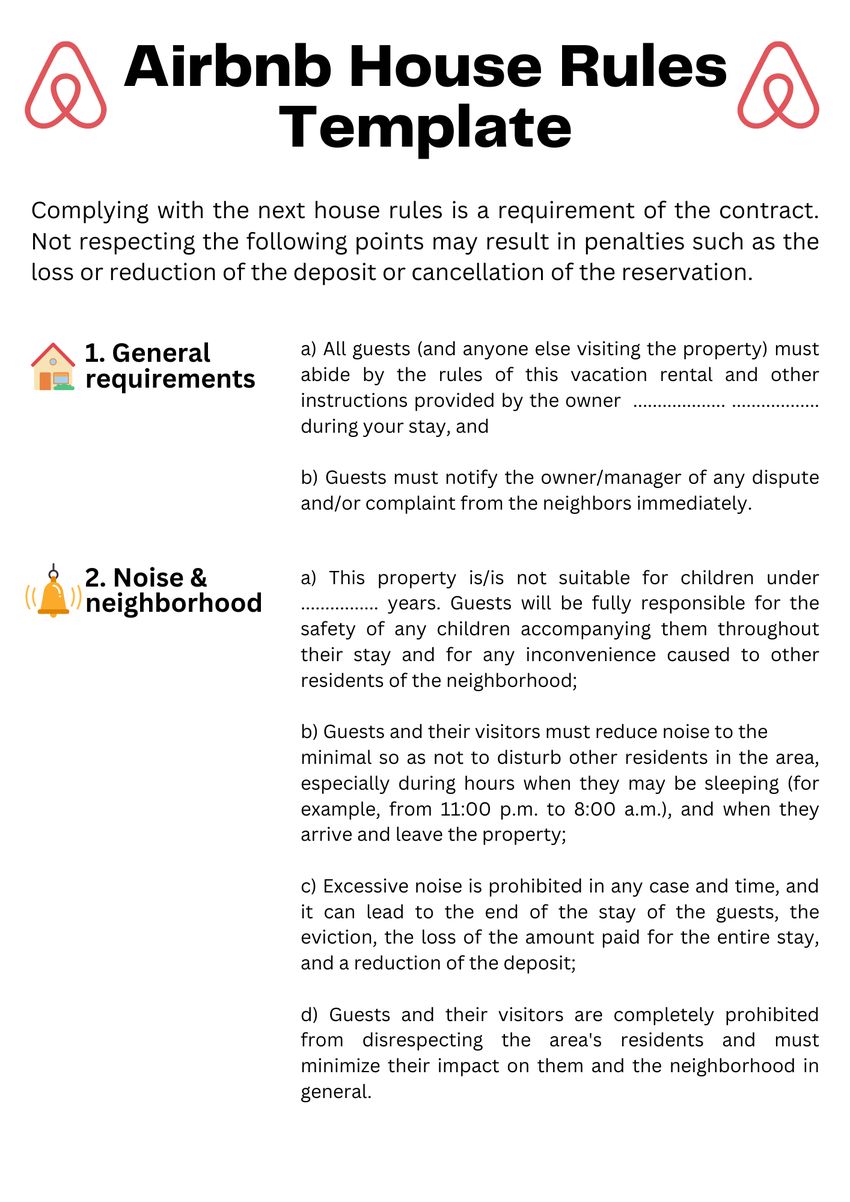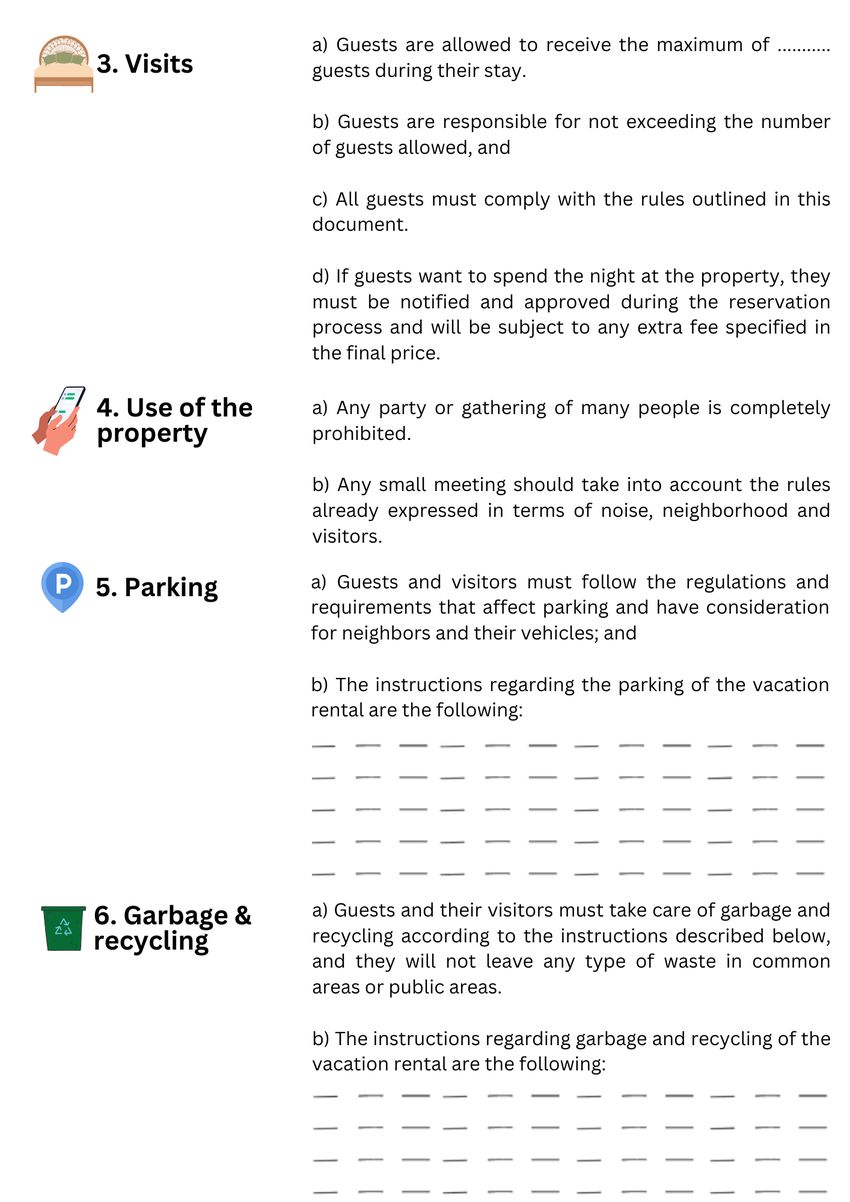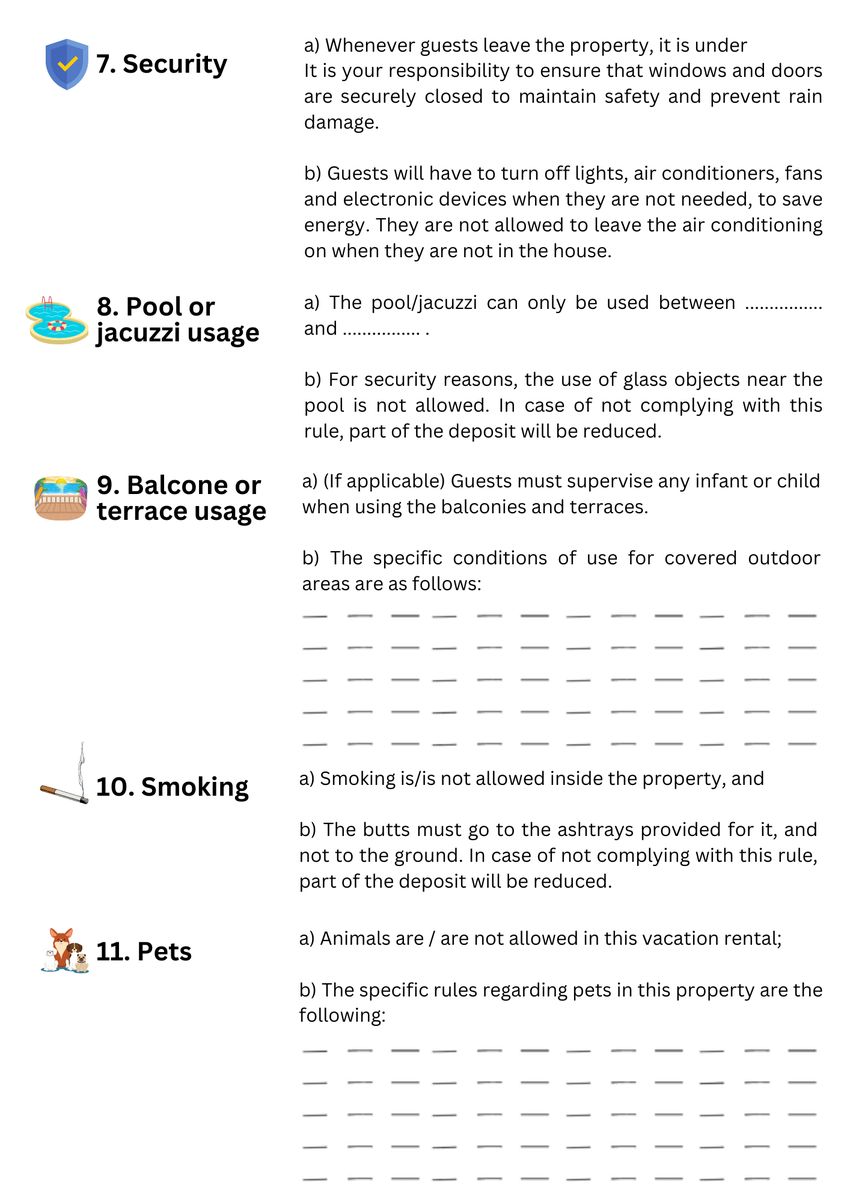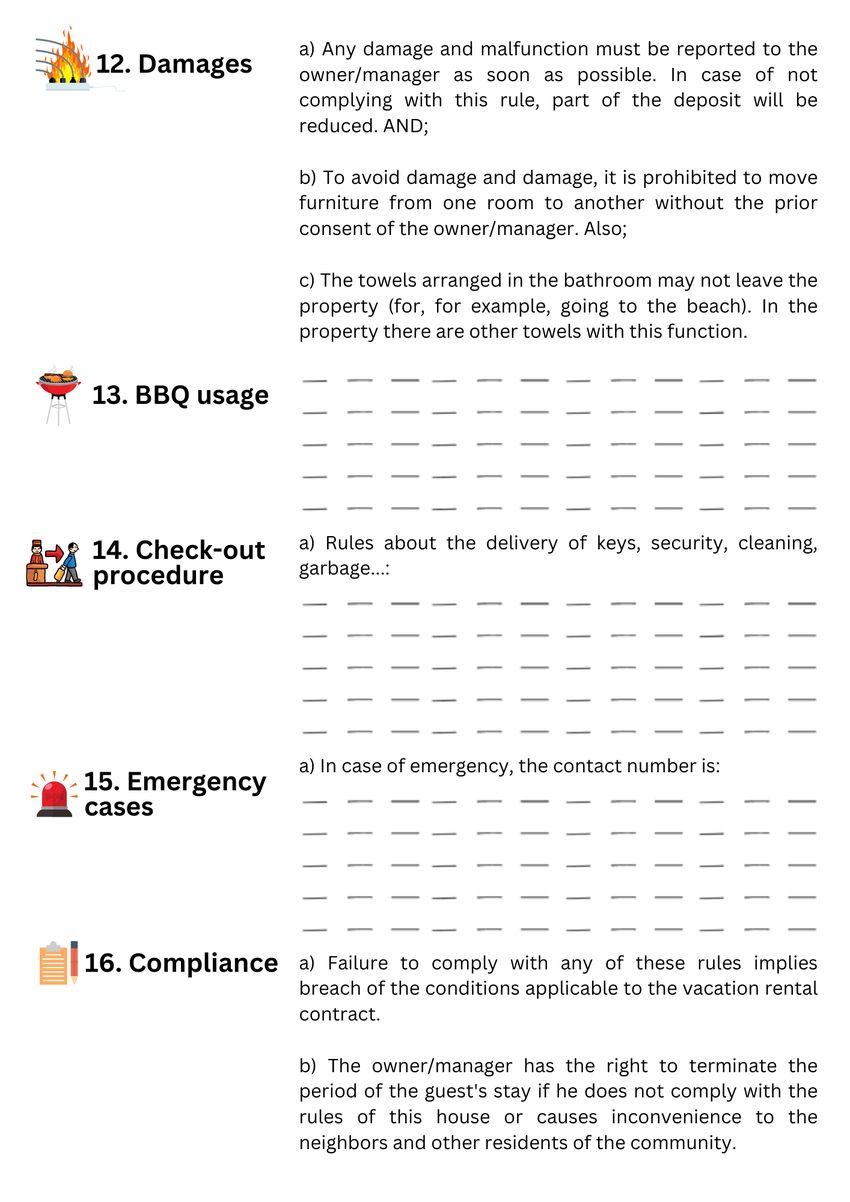 Keep your house rules' "don'ts" lists short. Your guests may feel uneasy when considering renting your place as a result. Prospective visitors would probably go elsewhere for a property with less stringent rules if they encounter a big list of prohibited things. Read more in our article about Airbnb house rules.
10. Don't skip post-departure
Airbnb communication
It would be best to immediately contact your guests to express your gratitude for having them stay at your house. Simply saying that hosting them was a joy is proper Airbnb etiquette. Such a gesture can assist in alleviating any hassles that could have occurred that would otherwise be recalled as unpleasant during their stay.
At the same time, make sure to ask for a review from them. You can also promise to keep them updated on sales and limited-time offers by sending them regular emails. More perfect techniques for achieving great results you can get during a personal consultation with us. 
To sum up
Now, all you know can be great rules to communicate with your Airbnb guests. You can tailor your messaging to meet the guests' needs more effectively. Remember:
Working with reviews is an important area affecting the business's reputation and sales.
To make it easier to work with reviews, divide them into segments and set a priority.
When communicating with a client, remain neutral, and stick to a businesslike tone.
Pay attention to the guest – enter into a dialogue with them, understand the situation, and offer a solution.
If a guest is wrong in a particular situation, gently tell him about it and offer a solution to smooth out the negative.
A live dialogue on the phone is more effective than online because this way a guest feels needed.
Most of the negativity is smoothed out by a phone call.
Frequently asked questions about
Airbnb communication rules
1. What is the communication policy of Airbnb?
Within 24 hours is the maximum time frame that Airbnb requests hosts react to messages and inquiries from guests. You have 24 hours to accept (or reject) a guest's request to stay at your place once you get it from Airbnb before it expires.
2. How do Airbnb hosts communicate with guests?
Airbnb hosts have several ways to communicate with their guests:
Messaging platform to communicate directly through the Airbnb website or mobile app.
Pre-booking inquiries. Hosts can respond to them, provide additional information about the property, answer questions, and address any guests' concerns.
Booking confirmation and details. Once a guest has made a reservation, hosts can send a message through Airbnb to confirm the booking and share essential details such as check-in instructions, house rules, etc.
Special requests and customizations, such as early check-in, additional amenities, or local recommendations. Hosts can use the messaging platform to discuss and accommodate these requests.
Guest support and assistance, address any issues or concerns that may arise, and offer assistance with local recommendations, transportation, or any other aspect that can enhance the guest's stay.
Post-stay communication like a follow-up with guests, expressing gratitude for their visit and requesting feedback to help improve their hosting services and reputation.
Hosts need to be responsive, professional, and courteous in their communication with guests to provide a positive and enjoyable experience. The Airbnb messaging platform facilitates efficient and secure communication between hosts and guests, ensuring transparency and accountability.
3. Can Airbnb hosts message each other?
Yes, Airbnb hosts can communicate with each other through the Airbnb messaging platform. This allows hosts to connect, share experiences, ask for advice, and discuss various aspects of hosting on Airbnb. Hosts can reach out to one another for support, collaboration, or to seek guidance from more experienced hosts.
4. Why is communication important in Airbnb?
Communication is crucial in Airbnb for several reasons:
Clear expectations;
Personalization;
Building trust;
Conflict resolution;
Local recommendations;
Safety and security.
Overall, communication in Airbnb is vital for establishing trust, creating personalized experiences, resolving issues, and enhancing the overall guest experience. It facilitates a positive and transparent hosting environment, leading to satisfied guests and successful hosting relationships.
5. Can Airbnb host say no guests?
Yes, Airbnb hosts have the right to decline or say no to potential guests for various reasons as long as it does not violate Airbnb's anti-discrimination policy.
6. Can Airbnb read messages between guest and host?
Airbnb's privacy policy stated that the company may collect, analyze, and use the content of messages exchanged through their platform. So yes, Airbnb has the ability to access and review messages exchanged between guests and hosts on their platform for legitimate business purposes.
7. How do you say thank you to Airbnb guests?
When expressing gratitude to Airbnb guests, conveying genuine appreciation for their stay is important. Here's a simple and polite way to say thank you:
'Thank you for choosing my Airbnb for your stay. We truly appreciate your presence and hope you had a wonderful experience. We value your feedback and would love to host you again in the future.'
8. How do I make Airbnb guest feel welcome?
Making your Airbnb guest feel welcome is important to providing a positive guest experience. Here are some tips to help you create a warm and inviting atmosphere:
Personalized communication;
Clear check-in instructions;
Clean and well-prepared space;
Welcome package;
Thoughtful touches;
Clear house rules;
Prompt communication;
Local recommendations;
Flexibility and accommodation;
Respect privacy.
Remember, small gestures can go a long way in making your Airbnb guest feel welcome and valued. By providing a clean, comfortable space and offering personalized assistance, you can create a positive and catchy experience for your guests.
9. How to use Airbnb effectively?
To use Airbnb effectively and get the most out of your experience, consider the following tips:
Thoroughly research listings

. Pay attention to the description, amenities, reviews, and photos to ensure that the accommodation meets your specific needs and preferences;

Read reviews

to understand their experiences and the overall quality of the property and host. Look for recent reviews from guests with similar interests or priorities to yours;
Communicate with hosts before making a reservation; reach out to the host with any issues or concerns you have;

Be clear about your requirements

to the host. Whether it's about check-in time, amenities, or any special requests, it's important to be transparent so that the host can accommodate you effectively;

Plan ahead

, especially if you have specific dates or a popular destination. This increases your chances of securing the accommodation you desire and can sometimes result in better prices;

Utilize filters and search options

to narrow down your choices. Use them to find spaces that meet your criteria, such as price range, number of guests, location, and specific amenities;

Read the house rules

of the listing you choose. This will help you ensure that you comply with the host's expectations and maintain an enjoyable stay;

Communicate clearly with hosts

about your arrival time, transportation details, and any other relevant information to the host. This will help them prepare for your arrival and ensure a smooth check-in process.

Take advantage of recommendations

on local attractions, restaurants, and hidden gems. Hosts can provide some insights and suggestions that will enhance your experience in the area;

Leave reviews

. Share honest feedback about your experience, including positive aspects and improvement areas. Reviews help future guests make informed decisions and provide valuable input to hosts.
Following these tips, you can easily navigate Airbnb and have a positive experience, ensuring that your accommodation meets your expectations and enhances your overall travel experience.
10. Can Airbnb host monitor you?
No, Airbnb hosts are not allowed to monitor guests without their consent. It is possible for hosts to access certain information that is necessary for managing the booking, such as guest contact details, booking dates, and messages exchanged through Airbnb's messaging system. However, hosts must handle this information responsibly and comply with Airbnb's privacy policies.
11. Can all guests see Airbnb messages?
No, guests on Airbnb cannot see the messages exchanged between hosts and other guests. The messaging system on Airbnb is designed to maintain privacy and confidentiality. Messages sent through Airbnb's platform are visible only to the sender and recipient(s) of the message.
This ensures that hosts and guests can communicate openly and freely without concerns about their messages being visible to others. It also helps protect personal information and maintains a secure and private channel for communication within the Airbnb platform.
Updated on: . Author: Karina