How to Furnish a Vacation Rental Home – Guide With 4 Top Essential Tips in 2023
Are you wondering how to furnish a vacation rental home?
Brilliant! And we are here to tell you how to do it in the best possible way and leave it fully equipped for your guests. As we know how to help you, in this guide, we bring you the crucial information to prepare your vacation rental easily.
4 things to do before you start furnishing
a vacation rental home
You will have to frame your project before you start to furnish your home. This aspect is fundamental to ensuring success: think about your main objective, the style you want to give to the vacation home, and the budget. This way, you can embark on a coherent project that reflects and represents you as a host.
1. Think about the kind of travelers you want to attract
The type of rental (house, small or large apartment, villa, cabin, etc.) will help you define your target guest. If, for example, you have a large house with several rooms, the ideal would be to target families with children and groups of friends.
On the other hand, if you have a smaller and more welcoming apartment, you can target couples, business travelers or tourists in small groups, for example. You may also want to consider letting your property to guests with small pets.
2. Decide on a style for your vacation rental property
Defining who your potential clients are beforehand will help you define the style of design and decoration for the vacation rental. That said, the style will also have to do with your personality, budget and possibilities.
Take a look at sites like Pinterest to find innovative and trending ideas. In any case, furnishing and equipping tourist accommodations with taste will make them stand out.
3. Budget to furnish a vacation rental home and equip it
Before correctly furnishing and equipping a tourist accommodation, the budget is the first thing you should keep in mind. Depending on it, you can choose designs and furniture of better or lower quality.
Many people will come and go from your property, so the furniture and materials can wear out very quickly. For this reason, we advice you to don't neglect the quality of your equipment, since this way its useful life will be longer and you will avoid having to replace it frequently.
4. Vacation rental inventory essentials
It is a document that, as the name suggests, allows you to list all the property's assets and their value in case of loss or damage. Creating a digital version of this document is advisable for several reasons: faster updating, easier sending and consultation, possibility of adding photos, etc.
The preparation of this document is essential for any request for reimbursement to the insurance company in the event of a problem. Airbnb also requires this document to operate the Airbnb Host Guarantee.
How to furnish a vacation rental home interior
Let's go room by room to see what furniture and equipment are essential to offer your guests a complete and satisfying experience. Creating a well-equipped and warm space will allow travelers to feel comfortable and have a pleasant stay. The goal is to get positive reviews and good comments, essential to building trust and a good impression on your future guests.
1. Essentials for a living room
It is one of the most essential rooms in any tourist home, as it is the perfect place to rest after a long day walking or as a meeting point for socializing. It is important to create a pleasant environment and install comfortable furniture that attracts attention already from the ads on the tourist apartment platforms. Among essentials:
one or several comfortable sofas, if possible convertible;
books and board games;
nice rug;
smart TV to easily connect to video platforms;
wall decoration;
bluetooth speaker for music;
side table to eat, have breakfast or work;
dimmable lighting in warm colors;
dining table and chairs.
2. Amenities for a fully equipped kitchen
In theory, your travelers will stay in your vacation home for a short period of time. However, they will appreciate having all the facilities to cook and prepare some meals if necessary. In fact, some travelers will prefer to have breakfast at home and prepare lunch or dinner there, and for this they will need kitchen equipment adapted to their needs, such as:
an oven;
cooking plates;
a refrigerator;
a kettle and a coffee maker to prepare hot drinks;
pots and pans;
cutlery (knives, forks, soup and dessert spoons);
plates and bowls;
a set of kitchen knives;
various kitchen utensils;
plastic food containers;
water glasses and wine glasses;
coffee cups/tea cups;
at least one cooking oil and basic seasonings (salt and pepper);
kitchen paper and napkins;
garbage bags.
Equally important is correct and competent communication with your guests. If you do not know how to correctly build the logic of the sequence of messages in a dialogue with clients, believe me, no matter how beautiful your property was, you will not receive a single reservation. Here are 10 effective communication strategies.
3. Bathroom furnishing for guests
Another important space is the bathroom. Your future visitors will travel with their personal toiletries (toothbrushes, toothpaste, moisturizer, etc.). However, they will expect to find the following essentials:
towels;
a bath mat;
toilet paper;
hand soap;
shower gel;
hairdryer.
If you have a washer and dryer, this is a plus. If you do not have a washer and dryer, indicate in your guest guide which laundries or dry cleaners are close to the tourist accommodation.
4. The most important space – the bedroom
The bedroom is a space to relax and unwind. It should have a cozy and intimate atmosphere. Whether you have only one or several bedrooms in your holiday home, the furniture is the same:
a double bed and a good mattress;
a storage space;
bedding (for summer and winter);
good quality sheets;
extra duvets or blankets;
bedside lamps or reading lights.
Be sure to write an attractive and concise description of your property. In our article, you can find examples and a template for correctly formatting listing descriptions.
5. Equipment for teleworking or work
Today, teleworking is becoming more and more popular. This new trend allows you to open up to a broader group of guests, who are looking for a way to discover new places in times of low occupancy in holiday accommodation, fleeing from monotony. But to adapt your holiday home to them, you will need a minimum of equipment:
fast internet access;
a desk or table (kitchen or dining room);
an office chair;
office supplies.
6. Generic furniture for a vacation rental home
In a broader context, you will need to prepare your vacation rental with these products:
Internet access: connectivity is part of our lives.
Smoke detectors will make your guests feel safer during their stay in the holiday home.
A charger with various connection types: for smartphones and tablets of various brands.
A coat rack and shoe rack at the entrance: so that your guests can leave their coats, shoes and bags without having to search for holes in closets.
Household cleaning products: for day-to-day needs.
A container for water and food if you allow pets in the certificate of habitability.
Absolutely all real estate owners face challenges. And here, the most important thing is to be ready for anything. For example, you can explore the 12 most common challenges hosts face on the Airbnb platform. Rest assured, our advice will help you at the right time.
Ways to furnish the exterior of
the vacation rental home
Why do people usually prefer vacation rentals but not hotels? Silence, privacy, a huge terrace, jacuzzis, and a swimming pool. The last three points are often decisive, even if your property is located right on the sea or ocean.
Examples of properties with swimming pools and terraces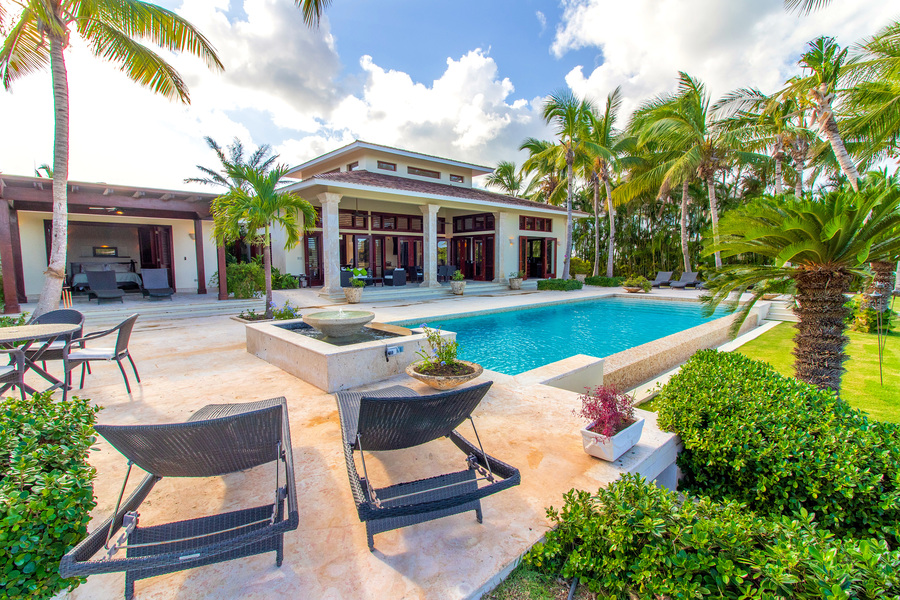 Luxury villa with a huge pool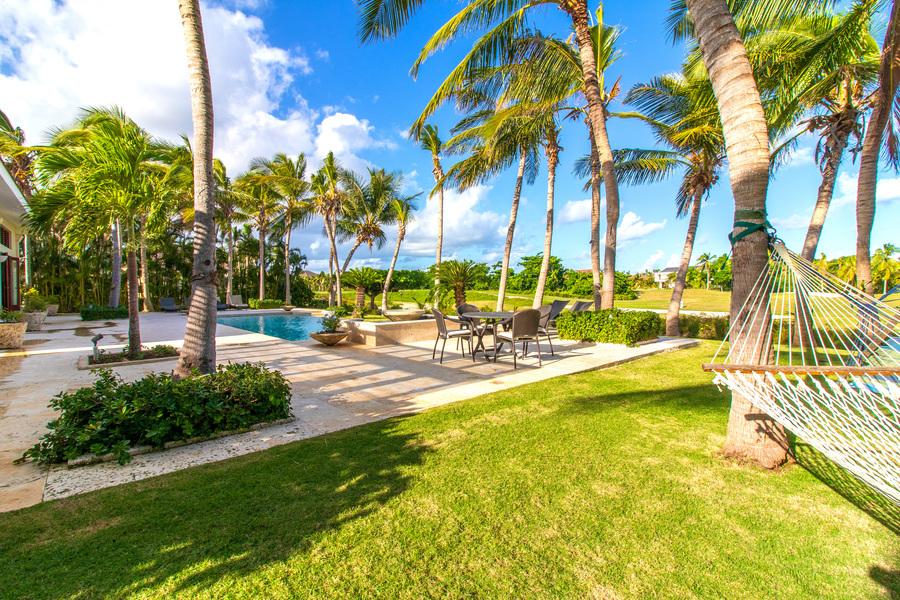 Relaxation area with pool and hammock near the villa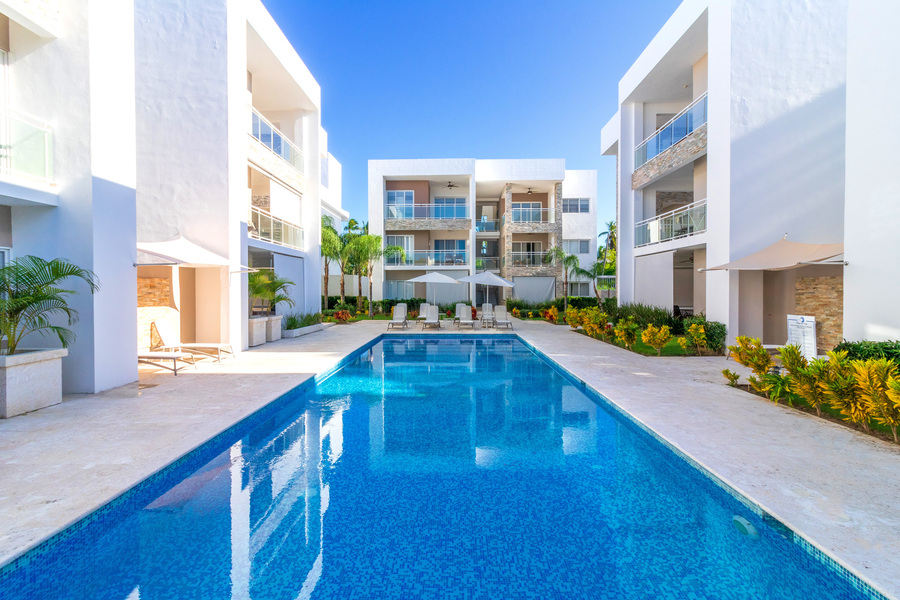 Swimming pool and relaxation area right next to the apartment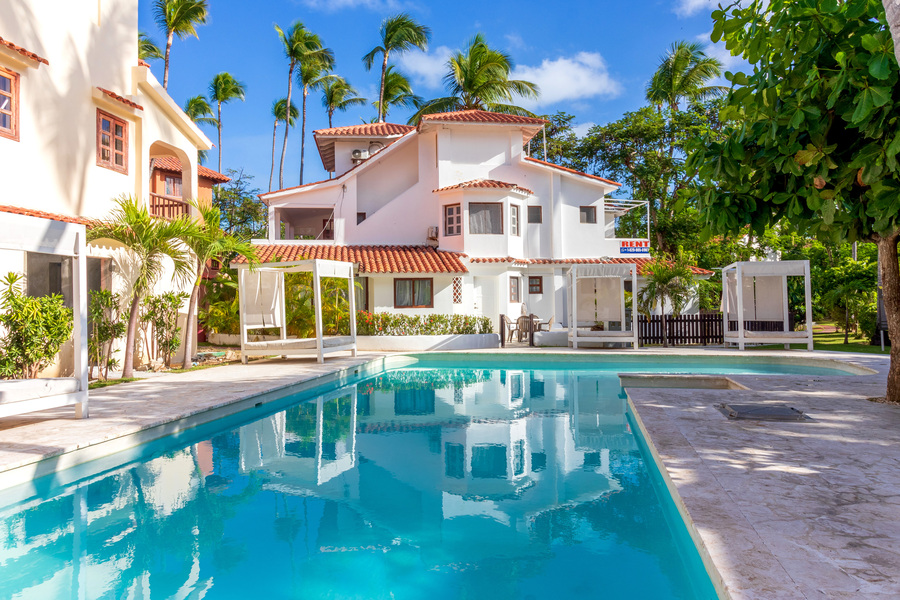 Swimming pool right next to the entrance to the villa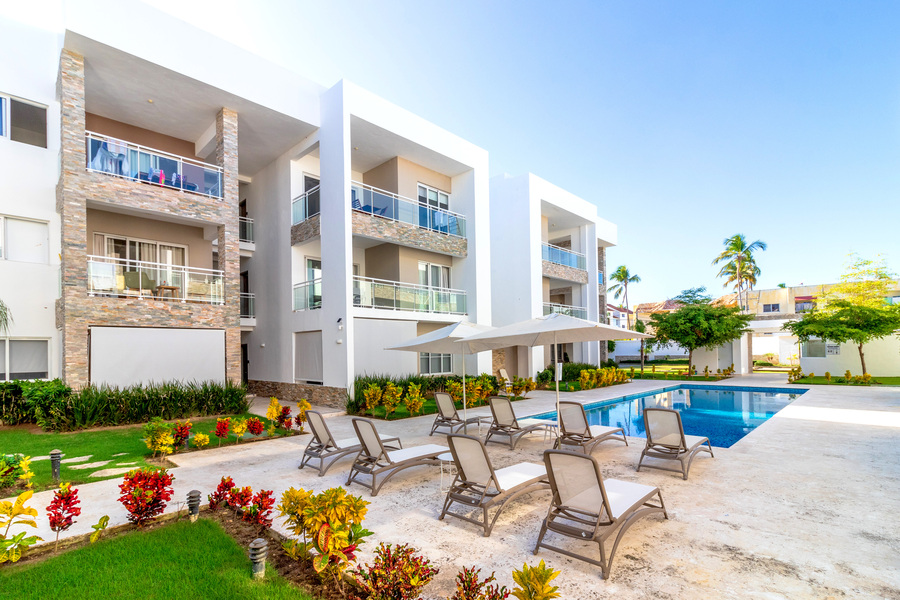 Sun loungers and pool in one of the communities
1. Pool supplies for a vacation property
In countries where the sun shines and the temperatures invite endless summer, it is not uncommon to find swimming pools in vacation rentals. Guests will be especially pleased to have a swimming pool, which is sometimes a fundamental selection criterion for vacationers. If you have it, make sure you clean it regularly and offer the following amenities:
loungers;
umbrellas;
towels;
safety gates for children and pets;
inflatable mattresses;
water games (balls, foam bars).
2. Jacuzzi / sauna equipment for properties
When promoting your vacation rental, emphasizing the presence of a sauna or Jacuzzi can be a persuasive factor for potential guests looking to enhance their vacation experience with wellness, relaxation, and added comfort.
Relaxation and wellness

. Such amenities allow guests to unwind and indulge in a soothing experience. They provide a space for relaxation, stress reduction, and muscle rejuvenation.

Health benefits

. Saunas can help improve blood circulation, cleanse the skin, and promote detoxification. Jacuzzis, on the other hand, provide hydrotherapy benefits by soothing muscles, reducing joint pain, and alleviating stress.

Luxury and comfort

. Including a sauna or jacuzzi in a vacation rental adds a touch of luxury and elegance. Guests appreciate the opportunity to pamper themselves and enjoy a high-end experience during their vacation.

Year-round enjoyment

. They can be enjoyed regardless of the weather conditions. They are especially appealing in colder seasons, as they provide warmth and a cozy atmosphere.

Socializing and bonding

. Saunas and jacuzzis create a conducive environment for socializing and bonding with friends, family, or fellow travelers. These amenities offer a space for relaxation and enjoyable conversations, enhancing the overall vacation experience.

Enhanced property value

. Vacation rentals equipped with saunas or jacuzzis tend to attract more discerning guests and can command higher rental rates. They differentiate your property from others and increase its overall value.

Unique selling point

. These facilities can set your vacation rental apart from the competition. They are a distinctive selling point that attracts guests who specifically seek properties with such amenities.
From our personal experience, we advise you to develop instructions/guidelines for using the jacuzzi or sauna by guests! In this way, you will avoid unnecessary problems with the very real misuse of these facilities by vacationers and, as a result, expensive repairs.
3. Gardens, terraces and balconies
Many vacation rental users do not have a garden, terrace or balcony in their main residence, so they deliberately book accommodation where they can enjoy this luxury. Therefore, it is important to improve this space. Depending on the exterior equipment you have, it can provide:
an umbrella;
outdoor and garden furniture;
table and chairs;
sun loungers and loungers.
You can also install a barbecue and barbecue on the terrace. This is especially true if your housing is designed for a family, a large group of friends, such convenience will only increase both the price of rent and the demand for housing.
Promotion of your vacation rentals
Once you are ready to receive your first guests, do not hesitate to mention all the benefits and amenities you have added in the descriptions of your ads. Travelers who already know what they are looking for tend to filter for certain types of properties, so highlighting the characteristics of yours will bring you more visits.
Top 10 strategies to promote your vacation rental
| Strategy | Description |
| --- | --- |
| High-quality photos | Capture professional, appealing images of your vacation rental to showcase its best features. |
| Effective descriptions | Write detailed, engaging descriptions that highlight the unique selling points of your rental. |
| Targeted online listings | Advertise on vacation rental websites like Airbnb, VRBO, and Booking.com to reach a wider audience. |
| Social media marketing | Create a strong presence on social media platforms and regularly post updates, photos, and special offers. |
| Online reviews | Encourage guests to leave positive reviews on travel websites, as they can impact your reputation. |
| Email marketing | Make an email list and send regular newsletters with exclusive deals, discounts, and upcoming events. |
| Local partnerships | Work with local businesses like restaurants, cafes, or tour operators to cross-promote your rental. |
| Work with influencers | Partner with travel influencers or bloggers to showcase your vacation rental and reach their followers. |
| Seasonal promotions | Offer special rates or packages during off-peak seasons to attract more bookings. |
| Guest referral program | Reward guests who refer your vacation rental to their friends or family with discounts or incentives. |
Finding a strategy that suits your business requires a lot of financial resources, time and effort. Don't think that you can just copy someone's promotion strategy. Today, this method will only worsen your position in the market.
Conclusions
So, to furnish a vacation rental home, you must have lots of time and work, but everything will become easier once you establish what you need to include and the type of rental you want to manage. It will only be a matter of time before your vacation rental starts receiving more bookings and better reviews. Thinking about the needs of your guests, you will never fail!
Frequently asked questions about
how to furnish a vacation rental home
1. How can I make my rental look better?
If you want to improve the appearance of your rental property, there are several steps you can take to make it look better. Here are some ideas to consider:
Clean and declutter

. Start by thoroughly cleaning the rental space. A tidy and clutter-free environment instantly makes a space look more appealing. Clean the floors, windows, walls, and furniture. Remove any unnecessary items to create a sense of spaciousness.

Repaint the walls

. A fresh coat of paint can work wonders in transforming the look and feel of a space. Choose neutral, light, or bright colors that can make the rooms appear larger and more inviting. Remember to obtain permission from your landlord before making any changes.

Upgrade lighting

. Replace outdated light fixtures with modern, energy-efficient options. Good lighting can improve the ambiance and make the space feel more welcoming. Add lamps or floor lights to create a cozy atmosphere.

Enhance the curb appeal

. The exterior of the rental property is the first thing people see, so make it visually appealing. Maintain the landscaping by mowing the lawn, trimming bushes, and planting flowers. Clean the front entrance, repaint the front door, and consider adding potted plants or a welcome mat.

Replace outdated hardware

. Change old or worn-out hardware such as doorknobs, cabinet handles, faucets, and light switches. It's a relatively inexpensive upgrade that can make a significant difference in the overall appearance.

Use mirrors strategically

. Mirrors can make a space look larger and reflect light, creating an illusion of openness. Place them strategically to enhance natural light and make the rooms feel more spacious.

Add curtains or blinds

. Window treatments can instantly improve the aesthetics of a room. Choose curtains or blinds that complement the color scheme and style of the space. They can add warmth, privacy, and personality.

Decorate with art and accessories

. Use artwork, decorative pillows, rugs, etc, to add personality and style to your rental. Just ensure that you're following any guidelines set by your landlord regarding hanging items on walls.

Consider temporary modifications

. If your landlord permits, you can make temporary modifications to improve the space. For example, you can use adhesive wallpaper, removable decals, or stick-on tiles to add a touch of personalization.

Keep it well-maintained

. Regular maintenance is crucial in keeping your rental looking its best. Stay on top of cleaning, repairs, and replacements to ensure everything remains in good condition.
Remember to consult your lease agreement and communicate with your landlord to ensure you are within your rights and limitations when making any changes to the rental property.
2. How to make your house a vacation home?
If you want to transform your house into a vacation home, here are some steps you can take:
1. Define your target market.
2. Ensure comfort and functionality.
3. Provide basic necessities.
4. Furnish and decorate appropriately.
5. Maintain cleanliness.
6. Create inviting outdoor spaces.
7. Consider special amenities.
8. Install safety features.
9. Establish clear house rules.
10. Prioritize excellent customer service.
Remember to comply with any local regulations or permits required for operating a vacation rental in your area. It's also important to have appropriate insurance coverage to protect yourself and your guests.
3. How can I make my rental look expensive?
If you want to make your rental property look expensive and luxurious, here are some tips to consider:
Paint with neutral colors

. Walls should be painted in neutral hues like white, cream, or light gray. The room has a more expensive appearance thanks to the clean, sophisticated image these colors produce.

Upgrade lighting fixtures

. Replace outmoded or simple lighting fixtures with more contemporary designs. Select lighting fixtures that add to the room's aesthetics overall and cast a cozy, welcoming glow.

Use high-quality materials

. When feasible, choose high-quality materials. Upgrade your flooring to hardwood, laminate, or tile rather than carpet because they might create a more sophisticated vibe. For the kitchen and bathroom, pick sturdy and stylish cabinetry, worktops, and fixtures.

Add crown molding or trim

. They can give any area a sophisticated touch. To provide a classy appearance, add chair railings, baseboards, or wainscoting in addition to installing crown molding along the ceiling.

Install luxurious window treatments

. Select opulent window coverings like drapes or floor-length curtains made of high-quality materials. Spend money on well-fitting or custom-made blinds or shutters to add a sense of class.

Upgrade hardware and fixtures

. Replace worn-out, outdated hardware like doorknobs, cabinet handles, faucets, and light fixtures with fashionable, high-end alternatives. On the perspective of the room as a whole, these minor adjustments can make a significant difference.

Invest in quality furniture and accessories

. Invest in pieces of furniture that are sturdy and have a classic style. Look for time-tested trends and superior craftsmanship. Include opulent finishing touches like art, plush rugs, and beautiful pillows to complete the look.

Create a focal point

. Each area should have a focal point to catch the eye and impart a sense of elegance. It might be a striking light fixture, a statement piece of furniture, or a striking piece of art.

Pay attention to details

. The room should include a few luxurious finishing touches. Use deluxe towels, fine bedding, and designer products in the bathroom. Pay great attention to the little things, such using high-quality hangers in the closets or adding fresh flowers as ornamental touches.

Keep it clean and well-maintained

. Maintain and clean the rental home frequently to keep it looking its best. A spotless, well-maintained area conveys elegance and high standards.
Before making any big improvements to the rental property or making any long-term adjustments, take into account your budget and speak with your landlord.
4. How can I brighten my rental?
To brighten your rental and create a more vibrant and inviting atmosphere, here are some tips you can follow:
Maximize natural light by keeping windows clean and unobstructed.
Hang mirrors strategically to reflect light and create the illusion of space.
Choose light, neutral paint colors to reflect more light.
Incorporate reflective surfaces like glass and glossy finishes.
Opt for light-colored flooring to brighten the space.
Ensure adequate artificial lighting with high-wattage bulbs.
Use light-colored furnishings and accessories to enhance brightness.
Install lighting fixtures that distribute light evenly.
Remove visual clutter to allow light to flow freely.
Trim or prune surrounding vegetation to prevent blocking sunlight.
By implementing these strategies, you can enhance the brightness of your rental and create a more welcoming and cheerful atmosphere.
5. How do I make my house feel like a bed and breakfast?
To make your house feel like a bed and breakfast and create a cozy and welcoming atmosphere, here are some tips to consider:
Pay attention to the entrance of your house. Add a welcoming doormat, potted plants, or flowers to create a positive first impression. Consider adding a small seating area or a cozy bench where guests can relax and take off their shoes.
Ensure that your guest rooms are comfortable, clean, and well-equipped. Include finishing touches like plush blankets, pillows, and bedside tables with reading lamps. Think of offering conveniences like a mini-fridge, coffee maker, or a variety of teas and snacks.
Prepare a breakfast that suits your guests' preferences. Offer a range of choices, including pastries, cereals, fresh fruit, and continental breakfast dishes. Construct a warm dining space with inviting furniture and lovely table arrangements.
Decide on a unifying theme or aesthetic for your home, then stick with it while choosing your decor. With gentle lighting, cozy furnishings, and subtle accents, you may create a cozy and welcoming atmosphere.
Make your visitors feel special by offering considerate facilities. Be sure to include essentials like shampoo, conditioner, soap, and lotion. Give out clean towels, robes, and slippers.
By providing thoughtful touches, you may make your guests feel special. Offer them a warm welcome with a handwritten message, a modest gift, or a customized itinerary of nearby sights and things to do.
Establish locations for guests to unwind and mingle. With plush furniture, a fireplace, or a quiet reading nook, create a relaxing lounge space. Create an outside seating area so visitors may take in the scenery if there is room.
Provide your visitors with information about the activities, restaurants, and attractions in the area. Make a guidebook or provide brochures on the area. Provide suggestions for neighboring locations that visitors might not discover on their own.
Give your visitors top-notch customer service. Pay close attention to their needs and demands and be cordial and attentive. Provide support and direction, and go above and beyond to ensure their comfort and happiness.
Keep your home spotless and in good working order. Pay attention to the little things, including tidy furniture arrangements, new flowers, and spotless communal areas. Keep an eye out for any maintenance issues and take action right away.
By using these suggestions, you may make your home feel like a bed and breakfast, giving your visitors a comfortable, warm, and enjoyable stay.
6. How do you make a small flat look expensive?
To make a small flat look expensive and luxurious, follow next tips:
Declutter and keep the space organized.
Choose a cohesive color scheme with neutral tones.
Use high-quality materials for countertops & flooring.
Install statement lighting fixtures.
Hang floor-to-ceiling curtains in rich fabrics.
Strategically place mirrors.
Incorporate artwork and decorative accents.
Invest in quality, well-designed furniture.
Pay attention to small details like pillows and blankets.
Create a focal point in the room.
Ensure proper lighting of the space.
Add greenery like plants or fresh flowers.
Creating an expensive look is not just about spending a lot of money but making thoughtful choices that enhance the overall aesthetic of your space. By incorporating these tips, you can transform your small flat into an elegant living environment.
Updated on: . Author: Karina